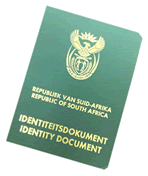 ¡@
South African citizens and permanent residents, 16 years and older, must be in possession of an identity document. Persons applying for their South African ID book for the first time must submit applications through the nearest Department of Home Affairs in South Africa. South African embassies and consulates can only process applications for re-issuance.
Please note you will not be issued with a Smart Card ID - the Department of Home Affairs issues all applicant who apply for Identity Documents at any South African Mission / Embassy / Representative Office with a green barcoded Identity Document
Checklist of Documents to be Submitted:
Form DHA-9, Application for ID document. DHA-9
Two (2) recent photographs; head and shoulder measuring 40 mm x 30 mm with applicant's name and ID number written on the reverse side
Certified copy of applicant's old ID Book or birth certificate
Copy of Marriage Certificate, Divorce Decree or Spouse's Death Certificate, if applicable.
Written request to change "Surname". To be submitted by recently married female applicants who would like:
1) to retain their maiden surnames, or
2) wish to use double¡Vbarrel surnames;