SAA Tourism Seminar in Taipei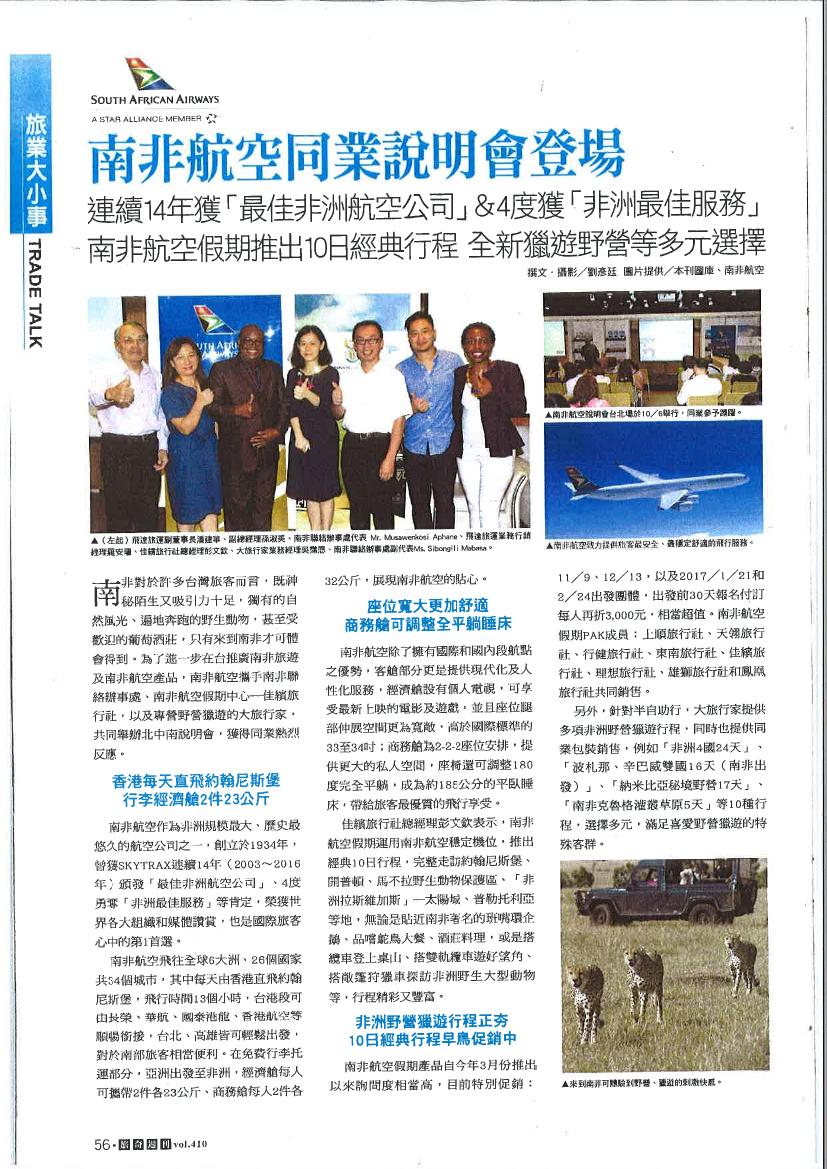 ˇ@
As far as Taiwanese tourists are concerned, South Africa is a mysterious and enchanting country with magnificent landscape, untamed wild animals and beautiful wine chateaux. In order to promote South African tourism, South African Airways, the Liaison Office of South Africa, Jia Bin Travel Agency and the Drifters jointly held a South African Tourism Seminar in Taipei on 05 Oct, inviting the local travel agents to explore the abundant tourism resources of South Africa.
Established in 1934, South African Airways (SAA) is the biggest airline company in Africa. It has been awarded ˇ§the Best Airline Company in Africaˇ¨ award by SKYTRAX for 14 consecutive years (2003-2016). SAA is the No. 1 choice for international tourists traveling to Africa. SAA provides flights to 6 continents, 26 countries and 34 major cities around the world. It takes 13 hours to fly from Hong Kong to Johannesburg. Those who are planning to depart from Kaohsiung may take a flight to Hong Kong for a connecting flight to South Africa provided by SAA daily. Passengers departing for Africa from Asia may carry 2 pieces of luggage with total weight not exceeding 23 kg. Passengers traveling in business class may carry 2 pieces with total weight not exceeding 32 kg.
The seats in economy class come with bigger legroom and with personal audio and video infotainment facilities. The seats in the business class can be reclined to a 180ˇCposition for complete relaxation.
The 10-day SAA Holiday Package takes the tourists on a tour to Johannesburg, Cape Town, the Mabula Game, the Sun City and Pretoria, according to Peng Wen-Chin, GM of Jia Bin Travel Agency. In addition, tourists may take a ride on the revolving aerial cable car up the peak of the Table Mountain, embark on a safari tour in wildlife parks, visit the ostrich farm and wine chateaux.
SAA Holiday Package Tour has aroused much attention in the market since it was first launched in March 2016. Those who register for the tour 30 days before the departure date may have NTD3, 000 discounted off the list price.
The Drifters offer 5-day Kruger Bush Safari for tourists who enjoy camping tour.