"@

The Liaison Office of South Africa (LOSA) in Taiwan hereby calls for nominations from South African Nationals resident in Taiwan to submit names of Wardens nominated by themselves who will on a voluntary basis acts as a nodal point for the distribution of news and information to South African citizens living in Taipei, New Taipei City, Keelung, Taoyuan, Hsinchu, Yilan, Hualien, Taichung, Kaohsiung, Chiayi, Tainan.

Here"¦s the map for ease of reference.

"@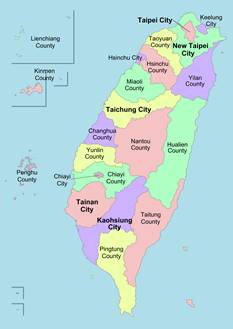 "@
The idea candidate will
. Be appointed by the South African expat community within a their district.
. Be a South African national who is active, well-known and a prominent member of the South
African community within the District
. Be of upstanding and sound character and integrity. Have their own transport and
communication equipment. Have the ability to speak the local language (Chinese).
The following persons will not be considered for appointment at a Warden
* Dual Citizenships holders
* Persons who are unable to produce proof of legal residence in Taiwan
* Persons with a criminal record or association to any criminal or criminal activities
The duties of a Warden include, but are not limited to:
* must be accessible and available 24/7.
* is able to meet with officials from LOSA on a regular basis.
* identify and inform the LOSA of all means of communication available in order to reach
South African citizens promptly in an emergency.
* should have readily accessible lists with names and contact details of South African citizens within his/her district, including confidentiality requirements.
* work closely with LOSA to develop and identify evacuation plans /routes.
* should communicate with LOSA and report on the status in his/her district on a regular basis after South Africans are arrested or during and after natural disasters (earthquakes / typhoons).
* should maintain regular communication with all SA citizens registered with him/her.
* designate a Deputy Warden (that complies with the requirements of a Warden) to perform duties in his/her absence.
Nominated candidates must submit the following required documents to LOSA for consideration and appointment as a Warden:
1. A letter, including the name list with signatures of the South Africans that appoint you as a Warden / representative for the SA community in your area. (Include the list of South Africans that you will be responsible for (including their title, full names (as on SA ID) and SA ID numbers and their signature next to their details);
2. Your full CV with relevant contact details and physical address;
3. Police clearance certificate (both local and from SA)
4. The area in Taiwan that you are covering / responsible for; and
5. The amount of South Africans that you will be responsible for.
After the documentation is submitted to LOSA, the ""nominated Warden"¦ will be required to undertake an interview with officials from the LOSA.
Should the appointed Warden meet the minimum requirements as indicated then the LOSA will sanction the appointment of a warden.
Closing date for nominations are: 31 July 2018 at 12h00
Nominations can be delivered for mailed to LOSA marked for the attention of:
Ms LV Manuel
Corporate Services Manager
Liaison Office of South Africa in Taipei
Suite 1301, 13th Floor, Bank Towers
205 Dun Hwa North Road
Taipei 10595.
Your may also email the informaion to consular.taipei@dirco.gov.za marked for the attention of the Corporate Services Manager.
The names of the new wardens for Taiwan will be announced by 31 August 2018.
For more information on the Warden system please visit www.southafrica.org.tw follow the link to Consular and Civic Services
"@