¡@

Stringent measures NOW apply for all births registered AFTER 30 DAYS!

DHA STREAMLINES BIRTH CERTIFICATES TO EASE MINOR TRAVEL.

Visa Application Requirements. (Last updated: September 2016)

Click here to download DHA-84 visa application form.
---
Please note that visa applicants are required to make a visa appointment with the Immigration Services of the Liaison Office of South Africa. Please contact our office to schedule an appointment.
---
ADVISORY: NEW REQUIREMENTS FOR CHILDREN TRAVELLING THROUGH SOUTH AFRICAN PORTS OF ENTRY - EFFECTIVE 1 JUNE 2015
---
¡@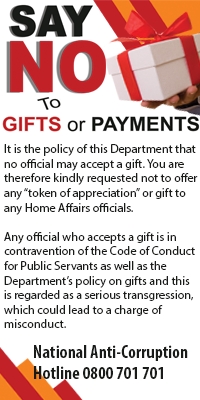 ¡@
Please note that with effect from 01 October 2014, all visa applications must be submitted by the applicants in person. The Liaison Office of South Africa will not accept visa applications which are submitted via any agencies on behalf of the applicants. .
---
The Liaison Office of South Africa issues visas for holiday or business purposes to South Africa.
Five to ten working days must be allowed for the visa processing.
The office also provides certain services to South African citizens residing in or visiting Taiwan.
Consular hours are from 09:00 to 12:00, Monday to Friday.
---
Please note that the SA Immigration Act has been amended
and new immigration regulations have been promulgated.
¡@ For the latest information and requirements, please visit:
http://www.home-affairs.gov.za/
¡@
---
¡@
The SA Department of Home Affairs has extended the date for
requirement of an unabridged certificate for children travelling
with parents until 30 September 2014.
From 01 October 2014, the requirement for an unabridged birth
certificate for children travelling with parents will come into
effect for the safety of children, including their protection from
child trafficking, abduction and kidnapping.
The SA Department of Home Affairs urges SA citizens and
foreign nationals to apply for unabridged birth certificates for
children. In terms of the SA Immigration Act, an unabridged
certificate of the child must reflect particulars of the parents in
terms of Immigration Regulation 6 (12)(a) for children
travelling with parents.
---
Document Certification:
Please note that appointment must be made in advance for certification of documents.
---
¡@
PROCEDURES TO BE FOLLOWED FOR APPLICATION FOR SOUTH AFRICAN POLICE CLEARANCE CERTIFICATES FROM ABROAD:
Information on police clearance certificates; inquiries on the progress of the application should please be submitted to the South African Police Service (SAPS)
For more information on services that are available visit the consular section of the Department of International Relations and Cooperation.
---
For information regarding "Letter of Entitlement" please click here.
---
South African citizens: if you are arrested or jailed overseas...
South Africa citizens residing in Taiwan - why is it necessary to register at our offices ?
¡@
¡@
¡@

back to top
¡@
¡@
¡@
¡@
¡@
¡@